Small
Business
Credit
Card
Selector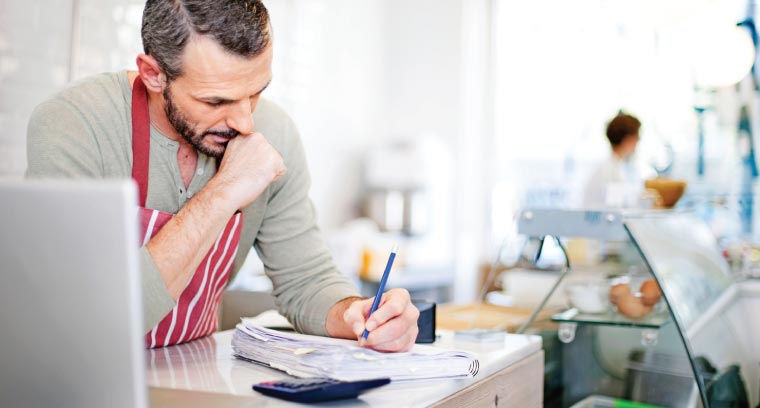 Answer a few quick questions and we can help
recommend the card to fit your business needs.
How will your Small Business use this card?
What benefit is most important to your business?
How many people will use this card?
When looking for a rewards credit card, for your business, which do you prefer?
We also recommend
ScotiaLine for Business VISA* Card
We recommend
Scotia Gold Passport for Business VISA* Card
Scotia Rewards: A comprehensive rewards program with travel any-where, any time.
Credit limit of up to $500,000 for secured and $50,000 unsecured.
Grace Period: Interest-free at least 21 days on new purchases.
Additional Cards: Annual Fee $50/card.
Get 50% off the annual fee on your personal Scotia Gold Passport VISA* card.
Convenient: VISA payWave for speed, convenience, and security when paying for small, everyday purchases.

Rewards Calculator


Call us at
1 877 552 5522


Call us at
1 877 552 5522
Scotia Momentum

�

for business VISA* Card

ScotiaGold Passport

�

for business VISA* Card

ScotiaLine

�

for business VISA* Card

Scotiabank VISA* business Card

Type:

Cash back reward

Travel reward

--

Rates and fees:

Annual Fee

$49

$120

$0

CAD/USD program: Silver $65; Gold $95

Supplementary Cards

$29

$50

$0

See Annual Fee

Interest Rate

19.99% on purchases 21.99% on cash advances/balance transfers

19.99% on purchases 21.99% on cash advances/balance transfers

Scotiabank Prime + 2.49 to Prime + 5.49%

1

Scotiabank Prime on cash advances

Minimum Credit Limit

$500

$5,000

$5,000

$5,000

Maximum Credit Limit

$50,000

$50,000

$50,000

Subject to Credit Approval

25 Days

21 Days

Rewards:

Program

3% at Gas Stations, Restaurants, and Office Supply Stores & on Recurring Bill payments
1% on all other purchases
Annual November payout

Earn 1 Scotia Rewards point for every dollar in credit card purchases

7

10,000 points = $100 in travel
Redeem points for trips, Scotia Rewards Investment Dollars, Scotia Rewards Credit Dollars, Merchandise, Gift Cards
Get with 5% cash back on airline tickets, pre-packaged tours, or cruises booked with Scotia Rewards Travel Service and charged to the card

11

--

Up to 1% cash back annually per card, based on three progressive spending tiers

5

Cash deposited directly into Business Account Annual October payout

Benefits

--

Access to concierge service
Concierge service

13

Rental car discount

--

No limit to the cash back you can earn
Access to International Concierge Service for Gold cardholders
Set cardholder credit limits and view transactions online
Online reporting

Restrictions

Maximum annual spend of $50,000 in the 3% category, moves to 1% thereafter

Initial minimum of 5,000 points required on travel redemption

--

Insurances (available to Gold cardholders)

12

:

Travel Emergency Medical Insurance

8 days for ages 64 & under
3 days for ages 65 & over
Up to $1,000,000 coverage

No

No

No

Flight Delay

No

No

Up to $500

Delayed & Lost Baggage

No

No

Delayed Baggage: Up to $500
Lost or Stolen Baggage: Up to $2,000

Common Carrier Travel Accident

No

No

Up to $500,000

Hotel/Motel Burglary

No

No

Up to $2,500

Rental Car Collision/Loss Damage

No

Extended Warranty

Double the manufacturer's warranty
Up to 1 year

Double the manufacturer's warranty
Up to 1 year

Double the manufacturer's warranty
Up to 1 year

No

Purchase Security

90 days
Up to $60,000 against theft, loss or damage

90 days
Up to $60,000 against theft, loss or damage

90 days
Up to $60,000 against theft, loss or damage

3

No

Small Business Disability Plan

Yes

No

No

No

Commercial Creditor Life Insurance

Optional

Optional

No

Liability Waiver Insurance (To protect against card misuse):

--

--

--

Up to $100,000 per cardholder (available to Silver and Gold cardholders)

Cash back rewards available for Canadian dollar card program only.
Only if the annual sales of your business are up to $5,000,000.Qualifying Criteria